Overview
The Stretch_Point software is a simple Modeler plug-in. It moves a selected point along the line passing through the point and an another selected point.



Requirements
LightWave3D 9.6 or higher(Windows 32bit/64bit)
Usage
Select one or more pairs of points.
Activating the "Stretch_Point" plug-in will show some handles.
Drag the circular handle with your left mouse button, the point will move along the linear handle.
Holding the CTRL key while dragging will move all the circular handles.
You can click the end of the linear handle to invert the circular handle.
Click your right mouse button to accept the current stretch and begin a new stretch operation.
Interface (the numeric panel)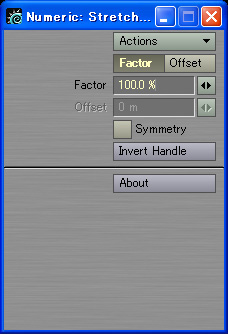 "Factor", "Offset"

The value of factor or offset can be set.

"Symmetry"

The end of linear handle also moves simultaneously.

"Invert Handle"

This button inverts the circular handle of the linear handle.

"About"

The version information.
Installation
Copy the "stretchpoint.p" file to your plug-in directory. (e.g., C:\LightWave_9_64\Plugins\model)
Start up Modeler, choose "Utilities > Plugins > Add Plugins", and select "stretchpoint.p".
For information on adding plug-ins, refer to your LightWave 3D documentation.
Edit "Edit > Edit Menu Layout > Command > Additional", and it will appear as "Stretch_Point".
Download
Here it is as a zip file:

stretchpnt11.zip (v1.1/ 97.8KB)


Changelog
v1.1 (Nov. 11, 2009)

- Compiled for 64bit.

v1.0 (Aug 28, 2002)

- The First Edition