Overview
SP_Clone LE is a simple Modeler plug-in that clones the object on background layer. The clones are arranged on selected polygons on foreground layer.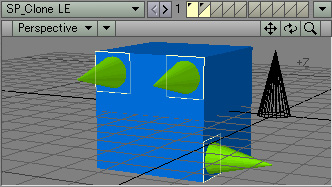 Requirements
LightWave3D 9.6 or higher(Windows 64bit/32bit)
Usage
Select polygons on foreground layer.
Activate "SP_Clone LE"
Installation
Copy the "spclonele.p" file to your plug-in directory. (e.g., C:\LightWave_9_64\Plugins)
Start up Modeler, choose "Utilities > Plugins > Add Plugins", and select "spclonele.p".For information on adding plugins, refer to your LightWave 3D documentation.
Edit "Edit > Edit Menu Layout > Command > Additional", and it will appear as "SP_Clone LE".
Download
Here it is as a zip file:

spclonele13.zip (v1.3/ 79.8KB)


Changelog
v1.3 (Nov. 17, 2009)

- Fixed a bug(Code->002)
- Compiled for 64bit.