Overview
QWrinkle is a Modeler plug-in to create wrinkles interactively.
Quick Overview Video (Courtesy of Mike Green)
Subpatch-friendly

Perfect for maintaining UVs

Work in any selection mode

Operation with anti-overlapping polygon

Requirements
LightWave 2018, 2019, 2020 (Windows 64bit)
LightWave 11.6, 2015.3 (Windows 64bit/32bit)
Usage
Select points, edges, or polygons on any selection mode.
Activate "QWrinkle"
Dragging horizontally changes the Width amount.
Dragging vertically changes the Shift amount.
Press Space-bar to accept.
Interface (the numeric panel)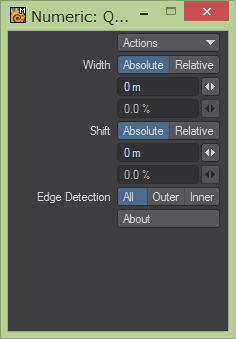 "Width"

The width of wrinkle can be set.

"Shift"

The depth of wrinkle can be set.

"Edge Detection"

You can select a edge detection type when you select polygons.

Registration
QWrinkle can be ordered now at a license fee of US$39 per LightWave Lock ID.
Payments are processed through PayPal.
Order Page
Contributor
Mike Green(www.mikegreen.name) has contributed many valuable suggestions and corrections.
Changelog
v1.3 (Apr. 29, 2019)

- Fixed a possible crash.

v1.2 (Jan. 01, 2018)

- Updated for LightWave2018.0.

v1.1Beta1 (Feb. 17, 2017)

- Added "Terminal Triangulation" that triangulates terminal polygons.

v1.0 (Nov. 20, 2016)

- The First Version